Often I hear sewists making a vacation wardrobe or something for a specific occasion. Most of the time, I think they are a bit silly. I make what I want as I can. When it's time for vacation, I pull from my closet. This post is a bit of an exception. My boyfriend's sister gave me some fabric and I've had Vogue 1587 in my head for awhile, then I decided I need to make it in time for John's birthday.
September has been so busy for me. I really have only been able to sew on week nights for a few hours at a time. So I was bit cray for wanting this done in like a week's time. I somehow did it though. It was a great time out celebrating with the boy.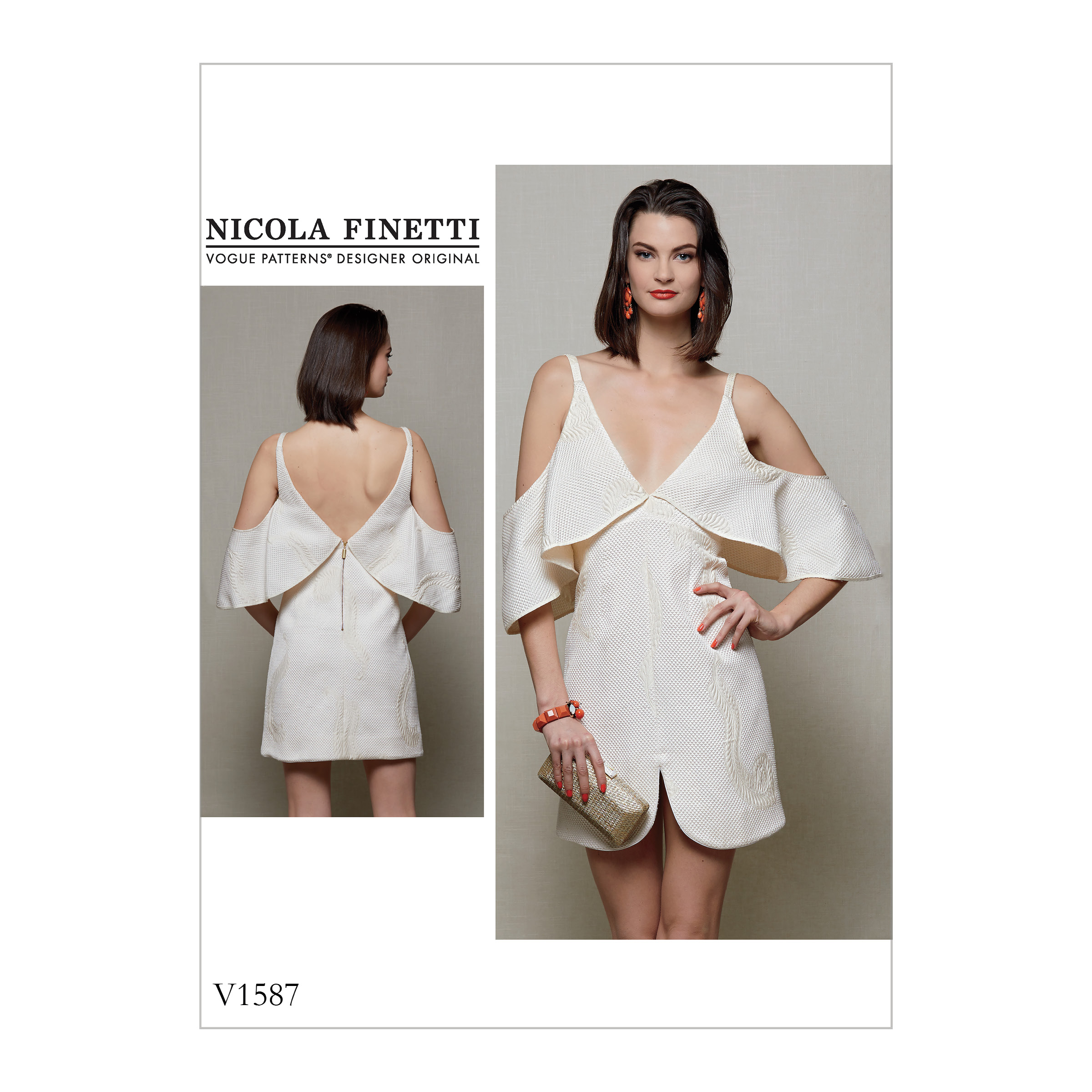 Vogue 1587 was one of the newer pattern releases. I loved how sleek it was, but I knew immediately I'd need to change a few things. I mostly wanted to get rid of the slit at the bottom. To me, it looks a bit like an arrow to the private areas. That was a pretty easy fix. I just straightened off the pattern pieces.
I also was worried a bit about modesty… and it turned out for good reason. I added 3 inches to the length, and it was still pretty short. I'm 5'7″ so I typically add 1 1/2″ to patterns in length. I probably lost 1/2″ of the extra length due to a error, I'll talk about in a minute. You can see in the model photo, it falls really short, but just wanted to mention that if I bend down without much thought, I'd be flashing people, with that extra length.
So let's talk about an error. I'm still not sure if it's something I did or an error in instructions. I reread it over and over, and I feel like I did it correctly. Basically, I struggle with attaching linings. The lining was stuck to the outside, when I turned it from the back zip, per the instructions, it just flipped in a never ending circle. I ended up unpicked the bottom hem, flipping the lining, and hand sewing the bottom hem. I had trimmed the seam allowance before attempting to flip the lining, which is how I lost a little bit of length.
This dress was a bit of a lesson of keep changing things til you like it. I got to the point where I could try it on, and I wasn't loving the color, and the arm holes weren't fitting right. If you follow me on instagram, you saw that journey a bit.  To fix the color, I decided to try dying it. I used Scarlet Rit dye and a tad bit of Petal Pink. I did a test first, with some fabric and grosgrain ribbon. Below you can see the color difference. The cream made me feel a bit old, and the pink feels a bit more romantic.
To fix the sleeve issue, I shortened the strap till it was only showing about 1/2″. It was quite a long strap. I do tend to have to shorten straps, but I was surprised by how much this time. That also helped raise the center front. I did raise the neckline by 1/2″ before I cut it out. Even with the shortened straps and the 1/2″ raise in the pattern neckline, I still wasn't comfortable in it, and I couldn't quite wear any bra with it.
Thanks to a sewing insta buddy @sewnotes, recommended adding some lace. I ended up doing this. I just handsewed a tiny bit in at the very end, and it made it much more comfortable to wear, with no worry on what bra to wear.
I was really impressed with the finishings on this pattern. I had never used grosgrain ribbon to finish edges. It's quite similar to using bias binding. I really think it adds a nice touch. In addition, it is also fully lined.
Pattern: Vogue 1587
Size: 12 bust graded to 14 waist
Fabric: not really sure, it was fabric given to me. There is some stretch to it. I used poly lining I had leftover from another project
Alterations: Straightened the front hem, cut front skirt on fold, raised neckline 1/2″, shortened straps, added 3″ length
Overall: I really like how it turned out. Will I make it again? probably not, the pattern is too much of a stand out to have more than one.